HWMI is an expert in polished stainless with almost 25% of our workforce working daily on polished stainless projects
Passivation – In-house passivation for small jobs and to protect each weld
Pickeling – in-house pickeling
Polishing – Polishing equipment with specialized finishes  
Electropolishing / plating and more
Food grade finishes — over 40 years building food grade equipment with a thorough     understanding of the variety of weld finishes / CIP (clean-in-place) designs and much more
    Experienced in Standard Ra roughness and other finish callouts – 2B Finish / 4b brushed / 5b satin / 7b reflective / 7b mirror / 9b bead blast / 10b – electropolished  
We run the best Walter Surface Technologies equipment ensuring consistent finishes!

Blasting – variety of media available (experience with SSPC standards and specifications)
Wet Paint (full filtered paint booth) – experience in a variety of specifications and standards and various quality procedures.  We have worked with epoxies / poly-urethanes / alkyd's and more. We have quality procedures and can meet mil thickness requirements and more. We have painted many specialty projects including items such as turbines, piping, equipment, and more. Let us look at your painting needs!
We have quality procedures and can meet mil thickness requirements and more.
Black Oxide Ebonized Coating In-house
Passivation – Variety of stainless finishes and protective coatings with passivation of stainless welds and small jobs in-house
Weld-Up / Spray Metalizing for Repair Work
Deburring – vibratory deburring machine
Polishing – HWMI has provided various polished finishes on stainless and aluminum with a variety of specialized polishing equipment in-house.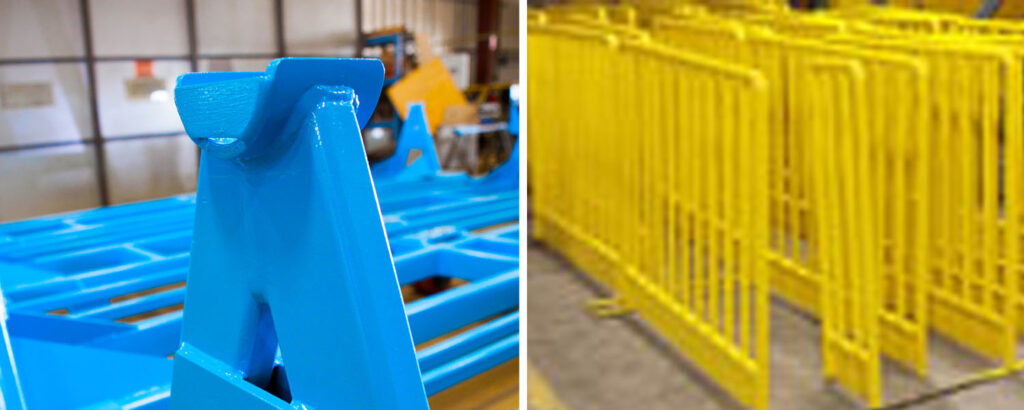 Check out our Facebook page where you can view more painting and coating examples!
Partnerships:
Powder Coating — we pickup/deliver from our powder coat supplier weekly on a standard route truck. 
Yellow Zinc and other Coatings
Hot Dipped Galvanizing with expediting next day turnarounds available.
ASTM A123 (or any ASTM specification)
Plasma Coatings – all types of plasma and spray metalizing coatings
Heat Treating and Stress Relieving – in-house and through a partner with quality documentation and testing reports available if requested
Hard Chrome – Hard chrome buildup up to .017″ in buildup for long lasting wear components
Heat Treatment – Induction / carburizing / case hardening / annealing (normalization) / nitride coatings / cryogenic treatment / and more
Materials:
We can partner with you in the initial design phase of your project and consult our many highly experienced designers and engineers along with our expert heat treat partners to help determine the best material for the hardness or ductility you are trying to achieve.   We are experienced with almost all materials — 4140 / 4140 PH / 4340HT / Stressproof 1144 / A2 / D2 / Nitronic / Safurex / 316 / 304 / Aluminum 3003 and 6061 / and many more!
Contact an experienced project manager to get a quote!