AVAILABLE SERVICES - Pneumatic / Hydraulics / Electrical / General Piping
In-house licensed electrician and mechanical assembly experts
Every large production line and machine we manufacture has controls.  We can work with you to do initial electrical runs back to control panels or armorblocks, do complete panels on simple systems or partner with a control panel shop or your in-house team on complex panel builds and PLC programming.   We have experience in pneumatic systems and cabinets as well as complete hydraulic design/builds.
In-house hydraulic fittings and hose making
Runouts and machine acceptance testing can be completed in-house with use of our motor starters, VFD controllers, pumps and other various test out equipment.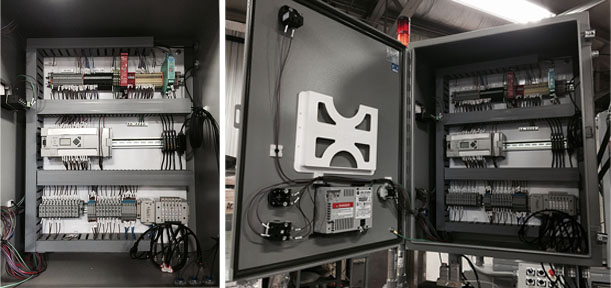 Want to know more about our products and services? Request a Quote! 

Check out our Facebook page where you can see more control integration examples!